Energy Plus
Energy efficient new homes
We're proud to build ENERGY PLUS qualified homes, to increase your comfort and peace of mind.
Efficiency and comfort.
Caviness & Cates ENERGY PLUS Certified homes are designed and built to provide greater energy efficiency and comfort. What does that mean?
Lowered cost of ownership and energy bills. The EPA's ENERGY PLUS standards require the home to be at least 15% more efficient than typical code built homes and include additional energy-saving features that typically make them 20-30% more efficient than standard homes.
Independent testing.
All Caviness & Cates homes are independently tested and rated with the HERS Index (Home Energy Rating System). Each home will produce a "Home Performance Label" to show each homeowner their energy and money savings.*
Working closely with Residential Energy Service Network (RESNET®), the energy rater analyzes each homes' construction plans and performs on site inspections, using energy efficiency software.
Energy Efficient Appliances
Each one-point decrease in the HERS Index corresponds to a 1% reduction in energy consumption. Thus a home with a HERS Index of 85 is 15% more energy efficient than the HERS Reference Home and a home with a HERS Index of 80 is 20% more energy efficient.
*Performance label example of a rated energy-efficient home. Actual energy savings and energy use is dependent upon occupant(s).
View a Typical Home Performance Assessment Label
Features of an Energy Plus Home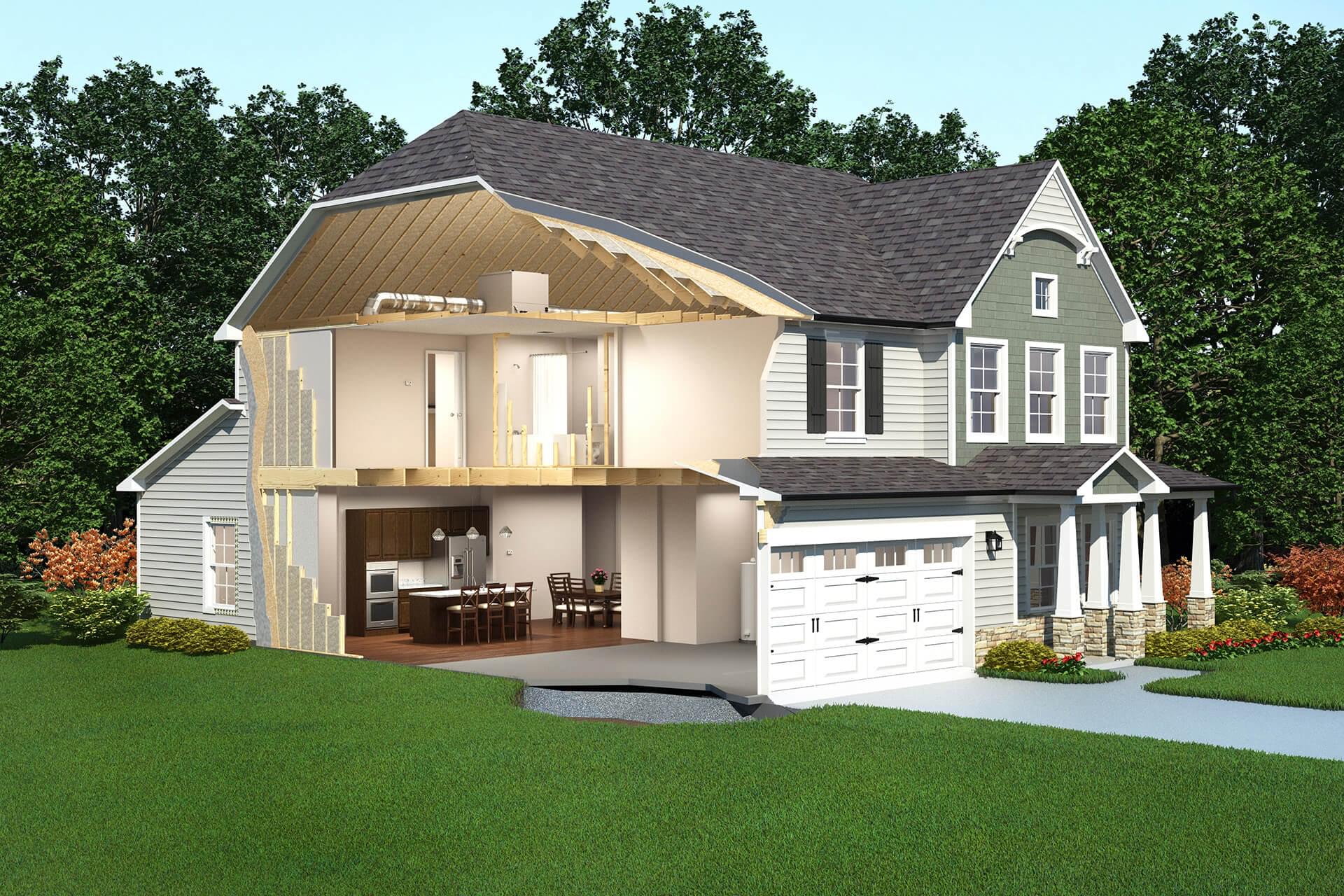 How You Benefit
Our energy efficient new homes improve your comfort, lower your energy bills, and provide you the peace of mind that comes with living in an ENERGY PLUS certified home.
Greater
Comfort
ENERGY PLUS standards improve overall comfort through minimizing uneven temperatures, more effectively distributing air and better regulating temperature and humidity variations.
ENVIRONMENTALLY
RESPONSIBLE
ENERGY PLUS homes are designed to not only be more energy efficient, but also help reduce your home's carbon footprint from the use of green building practices, energy-efficient appliances and water conservation systems.
Cost
Savings
Feel even more secure in knowing that you'll save money on your utilities each month. Because our homes are on average 15% to 30% more efficient than typically built homes, homeowners save more money on energy bills.
Energy Plus Checklist Requirements
ENERGY
All insulation that is installed is rated to a minimum RESNET-defined grade II or better.
Insulation installed makes 6 points of contact when installed vertically on exterior walls and also horizontally through the floor cavities.
All conditioned to unconditioned space has blocking installed and is sealed off completely.
All bottom plates are caulked and properly sealed to the respective subfloor, slab, or foundation wall.
All exterior doors have proper weather-stripping installed and all windows/exterior doors are air sealed tight to the framing members.
Duck leakage testing requires a maximum of 6% total leakage.
Whole house leakage testing requires a 5 ACH50 or less.
Appliances such as dishwasher and refrigerators are energy star certified.
All of our homes include a minimum of 80% efficient lighting (energy star fixtures, CFL or LED light bulbs)
Programable thermostats included in all homes (1st and 2nd floor)
Low-E window requirments: a. Climate zone 1-4: U-factor 0.35 / SHGC 0.30 b. Climate zone 5+: U-factor .035 / SHGC any
All HVAC ducts installed in unconditioned spaces require a minimum of a R-8 insulation.
Manual J Load calculation completed and verified
Indoor Air Quality
Foundations:
a. All grade around foundations is required to meet code. b. Perimeter drain installed that exits to daylight on crawlspace foundations c. All crawl spaces include a minimum 6 mil poly vapor barrier that is to be installed with 100% coverage. (lapped 6"-12") d. Slab foundations include a minimum 6 mil poly vapor barrier that is to be installed with 100% coverage. (lapped 6"-12")
All bathrooms that include a tub and/or a shower have an exhaust fan installed that meets a minimum measure of 50 CFM flow rate.
All solid fuel burning appliances are required to have a total sealed door with gaskets. Gas fireplaces are required to be direct vented with a fixed or gasket door. Non-vented fireplaces or vent free fireplaces are not permitted.
WATER EFFICIENCY
All faucets installed are labeled as EPA WaterSense
Moisture or rain sensors are installed with any onsite irrigation systems.
---