Maggie Way
Single Family Homes in Wendell, NC | Johnston County from $419,900
Wendell, NC
1,863 - 3,142 Sq. Ft
3 - 5 Bed
2.0 - 3.5 Bath
1 - 2.5 Stories
2.0 - 3.0 Car Garage
Maggie Way Road
Wendell, NC 27591
8 Quick Move-Ins
16 FLOORPLANS
Move-In Ready
Under Construction
Sold
Model homes
| Lot # | Address | Lot Size | Status | Details |
| --- | --- | --- | --- | --- |
| 60 | 107 W Clydes Point Way | 0.87 Acres | Sold | |
| 105 | 108 E Clydes Point Way | 0.74 Acres | Spec For Sale | View this home » |
| 130 | 115 Painters Mill Pond Ln | 0.58 Acres | Sold | |
| 46 | 125 Howards Crossing Drive | 1.08 Acres | Sold | |
| 62 | 151 W Clydes Point Way | | Sold | |
| 63 | 157 W. Clydes Point Way | | Sold | |
| 104 | 158 E Clydes Point Way | 0.68 Acres | Sold | |
| 47 | 161 Howards Crossing Drive | 1.13 Acres | Sold | |
| 116 | 166 Painters Mill Pond Road | 0.46 Acres | Sold | |
| 10 | 179 Martins Mill Court | 0.4957 Acres | Sold | |
| 48 | 183 Howards Crossing Drive | 0.5 Acres | Sold | |
| 103 | 188 E Clydes Point Way | 0.53 Acres | Spec For Sale | View this home » |
| 117 | 188 Painters Mill Pond Lane | 0.62 Acres | Sold | |
| 85 | 203 E Clydes Point Way | 0.45 Acres | Sold | |
| 126 | 205 Painters Mill Pond Lane | 0.56 Acres | Spec For Sale | View this home » |
| 71 | 20 W. Clydes Point Way | 0.58 Acres | Sold | |
| 33 | 216 Howards Crossing Drive | 0.48 Acres | Sold | |
| 86 | 219 E Clydes Point Way | 0.45 Acres | Sold | |
| 125 | 227 Painters Mill Court | 0.54 Acres | Spec For Sale | View this home » |
| 32 | 228 Howards Crossing Drive | 0.57 Acres | Sold | |
| 87 | 233 E Clydes Point Way | 0.45 Acres | Spec For Sale | View this home » |
| 120 | 236 Painters Mill Pond Lane | 0.63 Acres | Spec For Sale | View this home » |
| 31 | 242 Howards Crossing Drive | 0.68 Acres | Sold | |
| 121 | 250 Painters Mill Pond Lane | 1.1 Acres | Sold | |
| 30 | 258 Howards Crossing Drive | 0.57 Acres | Sold | |
| 122 | 258 Painters Mill Pond Lane | 2.62 Acres | Sold | |
| 1 | 25 Martins Mill Court | 0.71 Acres | Coming Soon | |
| 29 | 274 Howards Crossing Drive | 0.58 Acres | Sold | |
| 101 | 27 Painters Mill Pond Lane | 0.57 Acres | Spec For Sale | View this home » |
| 17 | 311 Martins Mill Court | 0.62 Acres | Sold | |
| 114 | 375 Howards Crossing Drive | 1.0 Acres | Spec For Sale | View this home » |
| 28 | 396 Martins Mill Court | 0.76 Acres | Sold | |
| 21 | 401 Martins Mill Court | 0.7 Acres | Sold | |
| 27 | 412 Martins Mill Court | | Sold | |
| 22 | 427 Martins Mill Court | 1.22 Acres | Sold | |
| 70 | 44 W. Clydes Point Way | 0.49 Acres | Sold | |
| 23 | 455 Martins Mill Court | 0.97 Acres | Sold | |
| 2 | 47 Martins Mill Court | | Sold | |
| 129 | 481 Howards Crossing Drive | 0.63 Acres | Sold | |
| 57 | 55 W. Clydes Point Way | 0.47 Acres | Sold | |
| 69 | 64 W. Clydes Point Way | 0.48 Acres | Sold | |
| 3 | 65 Martins Mill Court | | Sold | |
| 58 | 71 W. Clydes Point Way | 0.47 Acres | Sold | |
| 78 | 77 E Clydes Point Way | 1.64 Acres | Sold | |
| 132 | 85 Painters Mill Pond Ln | 0.55 Acres | Sold | |
| 45 | 89 Howards Crossing Drive | 1.02 Acres | Sold | |
| 131 | 99 Painters Mill Pond Ln | 0.53 Acres | Sold | |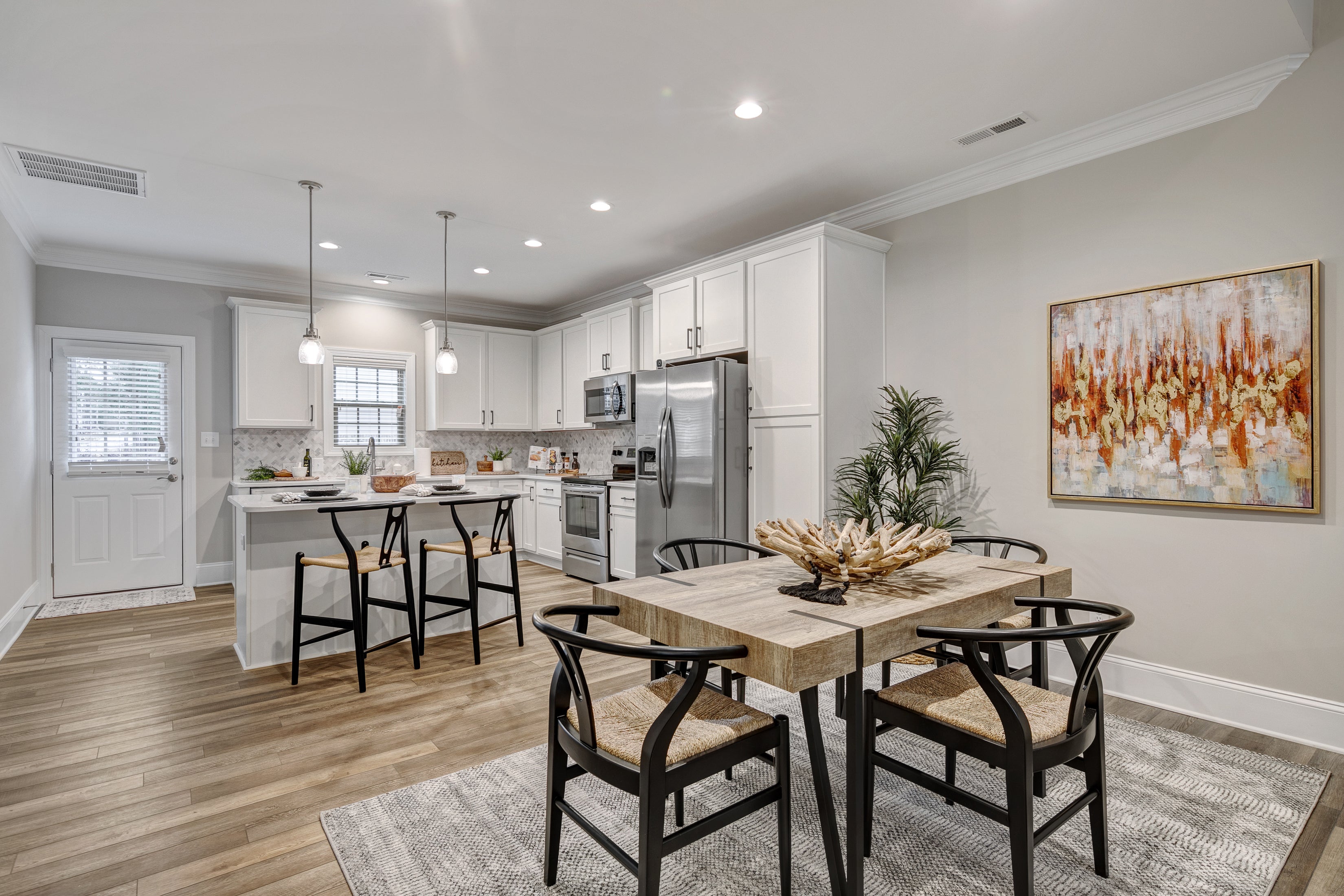 Hear From Our Customers.
I would like to express our appreciation to Caviness and Cates and especially your Summer Grove home warranty superintendent, Emek Siddeem for the exceptional homeowner support that he provided us throughout 2011, but especially in November. During our warranty claims process period, Emek closely monitored the scheduled tradesmen for quality of work performed, ensuring our total satisfaction. He kept us informed all along with our work orders and followed up regularly. Most importantly, he kept the tradesmen on task and on schedule, ensuring minimum inconvenience to our family. We certainly appreciated his courtesy and professionalism. He truly represented all the positive qualities of "service after the sale." Please convey our appreciation and thanks to Emek on our behalf for his professionalism and attention to detail."
AUBREY'S & PEEDIE'S GRILL
Serving up southern-style classics for both breakfast and lunch, this grill is a Wendell staple. Make the morning commute from Maggie Way for the breakfast of your dreams—fluffy homemade biscuits included.


WENDELL FARMER'S MAKET
From fresh produce to homemade goodies, there are plenty of delicious finds at the local farmer's market—plus, we've heard the jam sold here is, well, the jam!

The Raleigh area is known for its top-notch schools, which include Wake County Public School System, the largest district in North Carolina, and Johnston County Public Schools. Both serve the Archer Lodge area and are ranked among the top districts in North Carolina.


The Raleigh area is home to a number of charming and unique small towns, many of which are within a short drive of Archer Lodge. Nearby Knightdale offers plenty of local and big-box amenities, while Clayton is known for its fantastic community events. Smithfield is even home to the Carolina Premium Outlets!

Whether you're headed to Raleigh for work, to the coast for a weekend on the beach, or to the airport for an international getaway, you'll find you're never far from where you need to be. Easy access to major highways such as I-40, I-87, and I-95 places Archer Lodge and Maggie Way at the edge of truly endless possibilities.

---