The Estates at Winston Pointe
Single Family Homes in Clayton, NC | Johnston County from $575,000
Clayton, NC
2,921 - 3,330 Sq. Ft
4 - 6 Bed
3.0 - 4.5 Bath
1.5 - 2 Stories
2.0 - 3.0 Car Garage
1400 Winston Rd
Clayton, NC 27520
4 Quick Move-Ins
7 FLOORPLANS
Move-In Ready
Available
Sold
Unavailable Lots
| Lot # | Address | Lot Size | Status | Details |
| --- | --- | --- | --- | --- |
| 5 | 120 E Houndstoothe Court | 0.71 Acres | Sold | |
| 16E | 128 W Houndstoothe Court | 0.62 Acres | Sold | |
| 21E | 137 West Houndstoothe Court | 0.62 Acres | Sold | |
| 17E | 140 W Houndstoothe Court | 0.63 Acres | Sold | |
| 6 | 144 E Houndstoothe Court | 0.82 Acres | Sold | |
| 8 | 149 East Houndstoothe Court | 0.74 Acres | Sold | |
| 18 | 152 W Houndstoothe Court | 0.71 Acres | Sold | |
| 20 | 153 West Houndstoothe Court | 0.62 Acres | Sold | |
| 7 | 156 East Houndstoothe Court | 0.83 Acres | Sold | |
| 19 | 161 W. Houndstoothe Court | 0.75 Acres | Sold | |
| 1 | 22 E. Houndstoothe Court | 1.22 Acres | Sold | |
| 26 | 28 W. Cannalily Lane | 0.62 Acres | Sold | |
| 35E | 31 W. Cannalily Lane | 0.62 Acres | Sold | |
| 27E | 34 W Cannalily Lane | 0.62 Acres | Sold | |
| 34E | 37 W Cannalily Lane | 0.62 Acres | Spec For Sale | View this home » |
| 13E | 38 W. Houndstoothe Court | 0.62 Acres | Sold | |
| 28E | 42 W Cannalily Lane | 0.62 Acres | Sold | |
| 33E | 45 W Cannalily Lane | 0.62 Acres | Spec For Sale | View this home » |
| 2 | 48 E. Houndstoothe Court | 1.2 Acres | Sold | |
| 29E | 50 W Cannalily Lane | 0.62 Acres | Spec For Sale | View this home » |
| 32E | 53 W Cannalily Lane | 0.62 Acres | Sold | |
| 30E | 54 W. Cannalily Lane | 0.63 Acres | Sold | |
| 11 | 55 East Houndstoothe Court | 0.81 Acres | Sold | |
| 31E | 59 W Cannalily Lane | 0.62 Acres | Spec For Sale | View this home » |
| 3 | 70 E. Houndstoothe Court | 0.99 Acres | Sold | |
| 14E | 72 W. Houndstoothe Court | 0.62 Acres | Sold | |
| 10 | 93 East Houndstoothe Court | 0.76 Acres | Sold | |
| 4 | 96 E Houndstoothe Court | 0.79 Acres | Sold | |
| 15E | 98 W. Houndstoothe Court | 0.62 Acres | Sold | |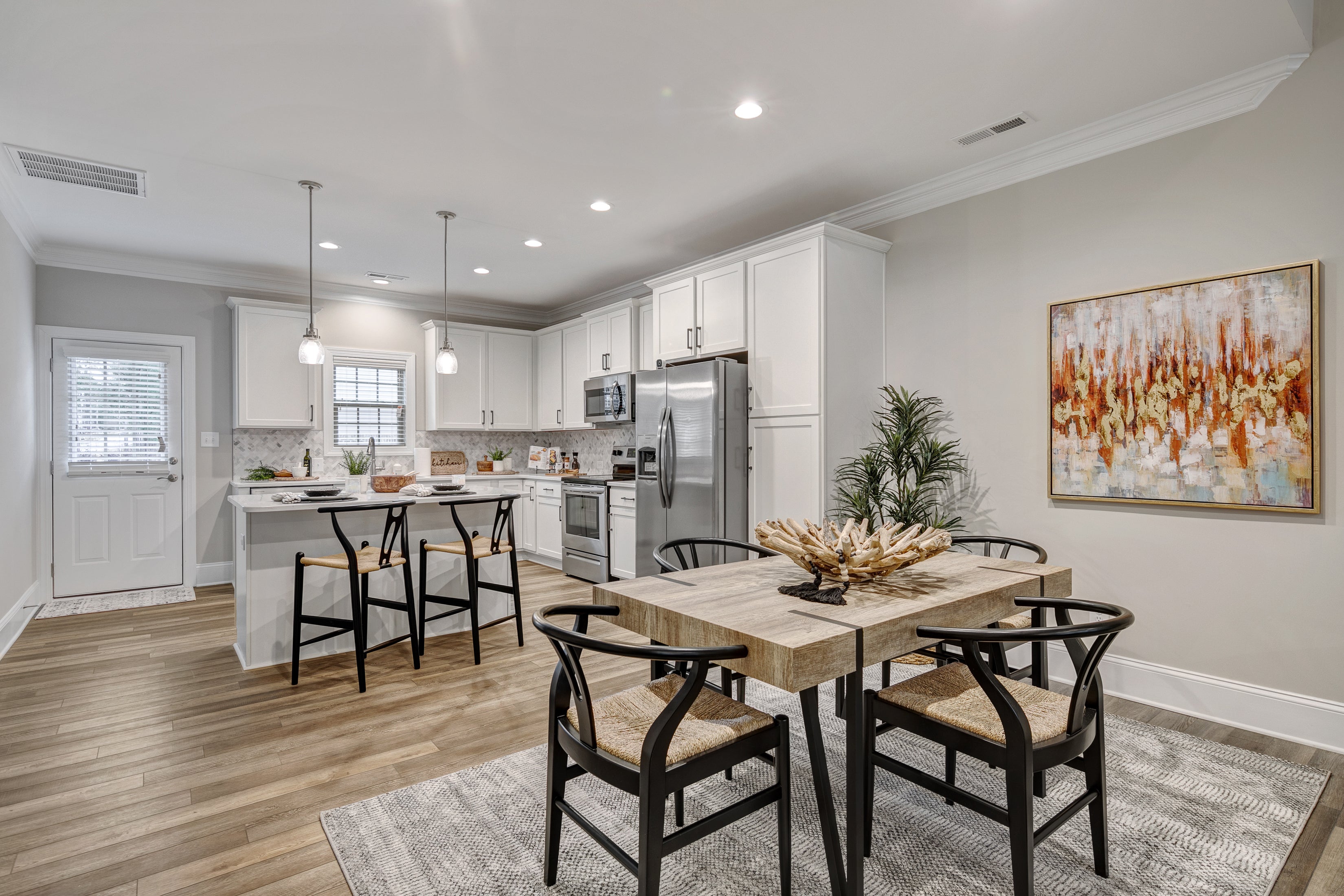 Hear From Our Customers.
We sent you a discrepancy list last Tues. evening Feb. 23. Early Wed. morning, a warranty representative was on the phone with my husband. Wow! talk about timely. He lined up and arranged for all of the work to be done in a short period of time. He has been wonderful to work with this past year. Thank you for making this transition easy. We truly appreciate it. To that end all of the workers have been prompt, from the framer, the drywall guys and the painters and carpet layers and even all the folks who answer the phone. They have really been professional and courteous. Having been in the Military and moving all the time we have purchased many new homes. From CA to Georgia, from starter homes to upscale homes. This isn't the biggest home we have owned, but it fits our needs now and truly has been the best experience we have had. Thank you from the bottom of our heart to all connected to Caviness and Cates."
Get The Latest News.
Ho! Ho! Home for the Holidays | New Home Sales Event
Oct 4, 2022
Get yourself what you really want this year.... A NEW HOME for the Holidays!We have special offerings on select inventory homes through the end of the ...
From Raleigh, take US-401 S / US-70 E to I-40E. Stay on I-40 E and follow signs for Benson/Wilmington. Take exit 306 to US-70 toward Garner/Smithfield/Goldsboro. Keep left and merge onto US-70 Business E towards Clayton. In 2.5 miles, turn slight right onto Guy Rd. In 2.8 miles, turn right onto Winston Rd. Community will be ahead on Winston Rd. GPS Address: 1400 Winston Rd., Clayton, NC 27520
---