Holly Grove
Single Family Homes in Winterville, NC | Pitt County from $379,900
Winterville, NC
1,863 - 2,724 Sq. Ft
3 - 4 Bed
2.0 - 3.5 Bath
1 - 2.5 Stories
2.0 - 3.0 Car Garage
Holly Grove Drive
Winterville, NC 28590
3 Quick Move-Ins
11 FLOORPLANS
Move-In Ready
Available
Sold
| Lot # | Address | Lot Size | Status | Details |
| --- | --- | --- | --- | --- |
| 59 | 3000 Dearing Court | 0.3 Acres | Sold | |
| 60 | 3002 Dearing Court | 0.29 Acres | Sold | |
| 58 | 3003 Dearing Court | 0.57 Acres | Sold | |
| 57 | 3005 Dearing Court | 0.29 Acres | Sold | |
| 12 | 303 Gable End Court | 0.45 Acres | Sold | |
| 11 | 304 Gable End Court | 0.53 Acres | Sold | |
| 40 | 308 Holly Grove Drive | 0.51 Acres | Sold | |
| 1 | 313 Holly Grove Drive | 0.6 Acres | Sold | |
| 38 | 318 Holly Grove Drive | 0.29 Acres | Sold | |
| 14 | 321 Gable End Court | 0.29 Acres | Spec For Sale | View this home » |
| 37 | 324 Holly Grove Drive | 0.29 Acres | Sold | |
| 15 | 327 Gable End Court | 0.3 Acres | Spec For Sale | View this home » |
| 62 | 353 Holly Grove Drive | 0.29 Acres | Sold | |
| 61 | 359 Holly Grove Drive | 0.29 Acres | Sold | |
| 32 | 364 Holly Grove Drive | 0.29 Acres | Sold | |
| 30 | 376 Holly Grove Drive | 0.29 Acres | Sold | |
| 29 | 382 Holly Grove Drive | 0.29 Acres | Sold | |
| 55 | 385 Holly Grove Drive | 0.34 Acres | Sold | |
| 28 | 386 Holly Grove Drive | 0.29 Acres | Sold | |
| 27 | 400 Holly Grove Drive | 0.41 Acres | Sold | |
| 26 | 404 Holly Grove Drive | 0.31 Acres | Sold | |
| 25 | 408 Holly Grove Drive | 0.29 Acres | Sold | |
| 54 | 409 Holly Grove Drive | 0.29 Acres | Sold | |
| 53 | 413 Holly Grove Drive | 0.29 Acres | Sold | |
| 24 | 416 Holly Grove Drive | 0.29 Acres | Sold | |
| 52 | 419 Holly Grove Drive | 0.29 Acres | Sold | |
| 51 | 425 Holly Grove Drive | 0.29 Acres | Sold | |
| 22 | 428 Holly Grove Drive | 0.29 Acres | Sold | |
| 21 | 432 Holly Grove Drive | 0.3 Acres | Sold | |
| 20 | 436 Holly Grove Drive | 0.41 Acres | Sold | |
| 19 | 440 Holly Grove Drive | 0.47 Acres | Sold | |
| 50 | 443 Holly Grove Drive | 0.39 Acres | Sold | |
| 18 | 444 Holly Grove Drive | 0.32 Acres | Sold | |
| 17 | 450 Holly Grove Drive | 0.29 Acres | Sold | |
| 49 | 453 Holly Grove Drive | 0.32 Acres | Sold | |
| 16 | 456 Holly Grove Drive | 0.3 Acres | Sold | |
| 48 | 465 Holly Grove Drive | 0.29 Acres | Sold | |
| 10 | 470 Holly Grove Drive | 0.4 Acres | Sold | |
| 47 | 471 Holly Grove Drive | 0.29 Acres | Sold | |
| 9 | 476 Holly Grove Drive | 0.3 Acres | Sold | |
| 46 | 477 Holly Grove Drive | 0.29 Acres | Sold | |
| 8 | 482 Holly Grove Drive | 0.32 Acres | Sold | |
| 45 | 483 Holly Grove Drive | 0.29 Acres | Sold | |
| 7 | 488 Holly Grove Drive | 0.36 Acres | Sold | |
| 44 | 489 Holly Grove Drive | 0.29 Acres | Sold | |
| 6 | 496 Holly Grove Drive | 0.34 Acres | Sold | |
| 43 | 497 Holly Grove Drive | 0.29 Acres | Sold | |
| 5 | 500 Holly Grove Drive | 0.32 Acres | Sold | |
| 42 | 501 Holly Grove Drive | 0.29 Acres | Sold | |
| 41 | 507 Holly Grove Drive | 0.42 Acres | Sold | |
| 4 | 508 Holly Grove Drive | 0.31 Acres | Sold | |
| 3 | 512 Holly Grove Drive | 0.39 Acres | Spec For Sale | View this home » |
| 2 | 516 Holly Grove Drive | 0.34 Acres | Sold | |
| 13 | 315 Gable End Court | 0.4 Acres | Lot Available | |
| 23 | 420 Holly Grove Drive | 0.29 Acres | Lot Available | |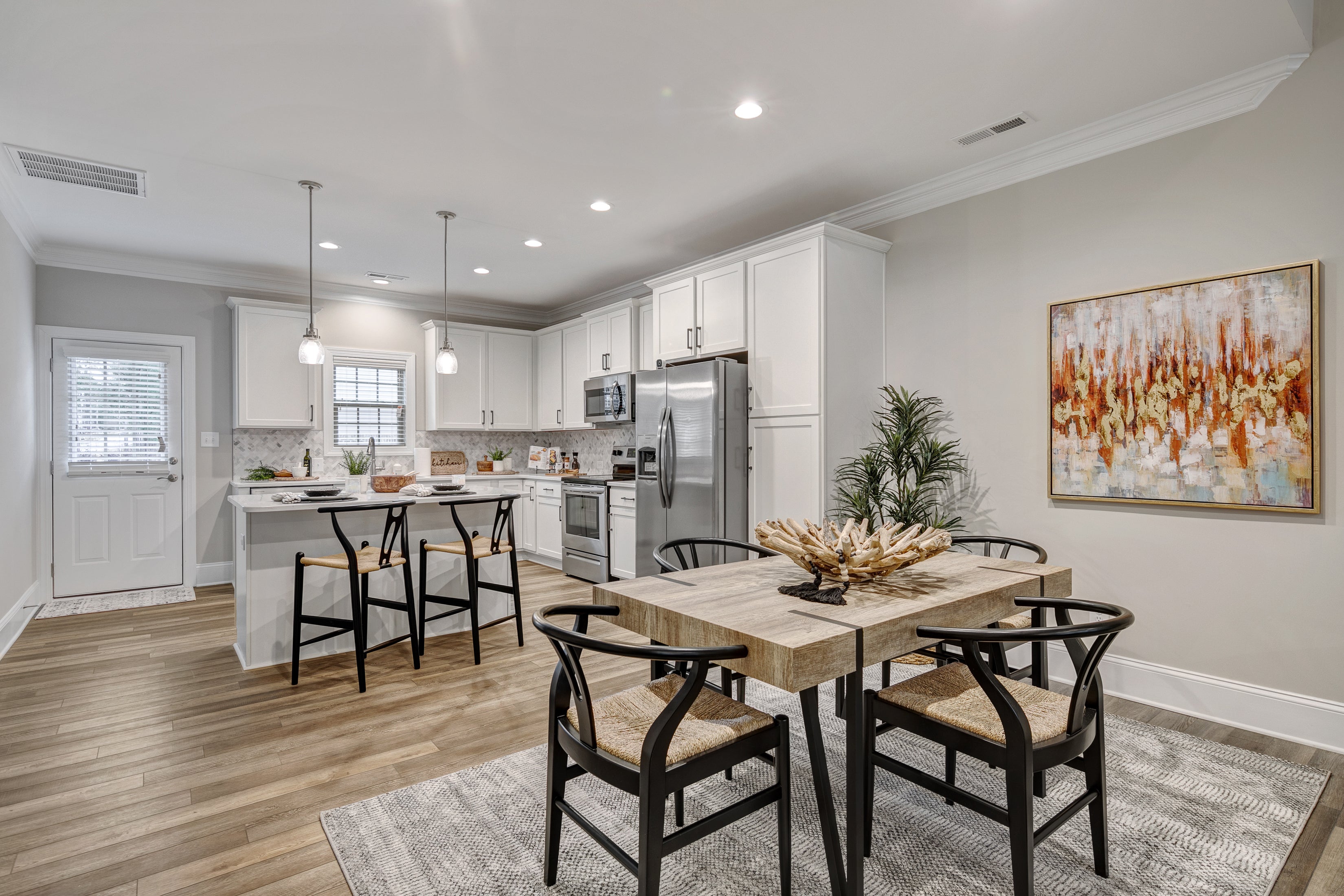 Hear From Our Customers.
This was our first house and the whole experience was great! Everyone was very friendly and professional. Thank you!
Get The Latest News.
Floorplan Feature: The NEW Dogwood Plan
Apr 5, 2023
As the Dogwood flowers, North Carolina's state flower, begin to bloom across our state, we thought it was only necessary to highlight our new plan: ...

Main & Mill Oyster Bar and Tavern
Main & Mill offers a casual setting with a cozy bar that features unique cocktails. It is the Greenville's area top pick for oysters on the half shell, great seafood, and Carolina specialties. Whether you want oysters or a juicy burger, Main & Grill is sure to leave you impressed!
Food Lion Grocery Store of Winterville
An NC staple, offering a wide variety of locally grown and homemade options!Food Lionis located just 5 minutes from Holly Grove and now offers curbside pickup!


"Pitt County Schools is a dynamic, thriving public school system, insistent on continued growth that results in tangible, real-world success for our students, the youth of our community." - Pitt County Schools
This fast-growing boutique opened it's doors in 2011 and offers unique and affordable items that can be personalized! Enjoy browsing their various selections in-person or by visiting their online storefront. From women's and men clothing to home décor and accessories, you'll be sure to find something you love!
Speedway offers many conveniences such as being opened 24/7 and an app that allows you to check gas prices, access your speedway rewards for more fuel savings, and check for other locations. This gas/convenient store offers a wide selection and is proud of the good reputation they have earned among many happy customers. 
From Firetower Rd, take Old Tar Rd, at the second 4-way stop sign turn right on Cooper St, turn left on Church St, Holly Grove community is located on the left just past the Town of Winterville Operations Center.

---